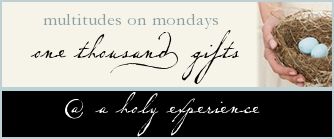 We moved on Saturday, and are still in the processing of unpacking in the new place and getting the old place put to rights so we can hand it back in great shape. I'm tired and sore, but happy and grateful...
619. Helping hands on moving day.
620. No drama, hassles or accidents with the 26 foot moving truck.
621. A wonderful landlady who left us dinner in the fridge, and plates, silverware, serving utensils and treats for the dog.
631. Feeling more and more at home in our new flat, more than we thought we would.
632. Fragrant flowering trees on our street that welcome us home.
633. Friends who brought BBQ and pie.
634. New church friends who invited us to their house for lunch on Sunday.
635. Day camp for Nic and Freshman Connection for Meaghan.
636. Constant opportunities to help our kids learn hard lessons in life