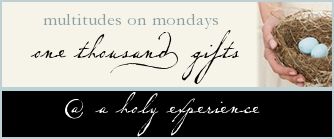 I have been so absent from my blog for so long...
A couple of days ago I was looking at my old blog and I was struck by how much I wrote, and often not about "deep" things. It was good to see a record of my days though. I really want to start doing that again :)
We have really been in transition, somewhat, for more than 2 years; as we decided about moving back to the US, the actual planning and move, and the almost year that we have been back. In a few weeks we will be moving yet again to a new apartment not that far away, so that Nic can go to a better school. We have finally found a church that feels like home to us (that was no small feat!) In many ways we are still starting again.
Anyway, that was a nice little ramble, eh?
607. A new apartment that we can hopefully stay in for the next 3 years (or until we can afford to buy a house.)
608. A landlady that trusted her gut feeling that we would be good tenants (including letting us have a dog.)
609. The likelihood that we'll be be able to move on a weekend (so we can browbeat our friends into helping us move.)
610. Daisy, our little Nissan Altima that has been reliably getting us around.
611. Connecting on a deeper level at church on Sunday.
612. Sermons that convict.
613. The smell of lilacs heavy in the air around the building where I work.
614. Secret surprises up our sleeves :)
615. Giggling/cackling and wrestling matches between Troy and the kids.
616. Recent visits with family.
617. Watching Wings on Netflix (we used to watch it a loooooong time ago!)
618. Warmer weather.
Here's to more frequent updates!