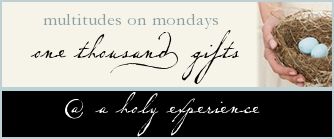 Just to say thanks...
415. A husband who empties the nasty water tank in the vacuum.
416. Strawberry and banana or mixed berry and banana smoothies.
417. A son who is always greets me exuberantly when I come home from anywhere.
418. Making mushroom chicken from the More With Less cookbook and thinking of my Mom.
419. Glasses for Nic from Walmart at a price that fits the budget.
420. Free eye exams through our health insurance.
421. Pushing my body to greater health and strength feels like keeping His temple.
422. A decision on high school for Meg.
423. A youth group that actually talks about Lent.
424. A daughter who takes her spiritual life seriously.
425. Discovering
Doxasoma
426. Asking God for things in secret.
427. The smell of cumin in the house.
428. Beagle-heating.
429. Cleaning out closets.