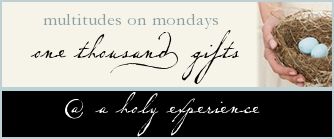 I have been neglecting my discipline of gratitude,but I'm so grateful for grace, and beginning again.
In the book (for quite some time!) from Troy...
387. Reconnecting with a cousin.
388. Receiving a gracious, encouraging reply from Mawi.
389. Getting together on Friday with another church planter here in Chicago.
390. Serving on the Forge Chicago team.
391. Unexpected gifts at Christmas time.
392. Nic getting an A+ on his vacation homework.
393. 5 Days into our diet and I'm still living.
394. A wife that cooks.
395. An old friend to call when I'm feeling disoriented.
396. A heated mattress pad.
397. New snow boots and new winter jackets.
398. Mom and Todd being able to join us for Christmas.
399. Friends that are patient with us when trips downtown prove a bust.
400. Friends that invite us over to celebrate New Year's Japanese-style.
401. A wife that's extremely patient with me.
402. Meg and Nic getting their teeth fixed.
And my own continued counting...
403. Finding a form of exercise that I think I'll be consistent with.
404. Being able to buy an affordable rower.
405. A journey with Troy to healthier bodies.
406. Dents in fat :)
407. Meg getting accepted into 3 high schools.
408. The providence of God that ties jobs and high schools for daughters together.
409. 10 pounds shed.
410. Friends at work.
411. Light string-cheese.
412. Savoring
One Thousand Gifts; a Dare to Live Fully Where You Are
.
413. Great weekends away on retreats for both our kids.
414. Watching the Lord of the Rings trilogy with Meaghan while her brother was away.
I have more but that's all I have time for tonight...more next week.